Histórico
Queria ver como a modelo Ana Hickmann ficaria musculosa.
Neste desenho eu apenas copiei seu rosto, o corpo eu não copiei de lugar nenhum.
É que como eu estudei muito tecidos, músculos, anatomia, luz e sombra, eu não preciso mais de alguém pra posar para mim. Basta eu imaginar uma cena, um tipo de corpo, uma posição, movimento, vento iluminação etc… e eu sei como cada componente estaria (aparentaria), então eu faco.
100% exercício mental
Técnica
Grafite HB 0.5 sobre papel (sulfite comum tamanho A4)
Data

?/?/2003
History
I was wandering how the model Ana Hickmann would look like if she was a bodybuilder.
This drawing I only copy her face, the body I copy from nowhere.
As I study a lot of fabrics, muscles, anatomy, lights n shadows, I don't need someone to pose to me. All I have to do is imagine a scene, a body type, position, movement, wind, lights etc… and I know how component would be (look like), so I make it.
100% mental exercise.
Technique
Graffiti HB 0.5 over paper (standard A4 format)
Date

?/?/2003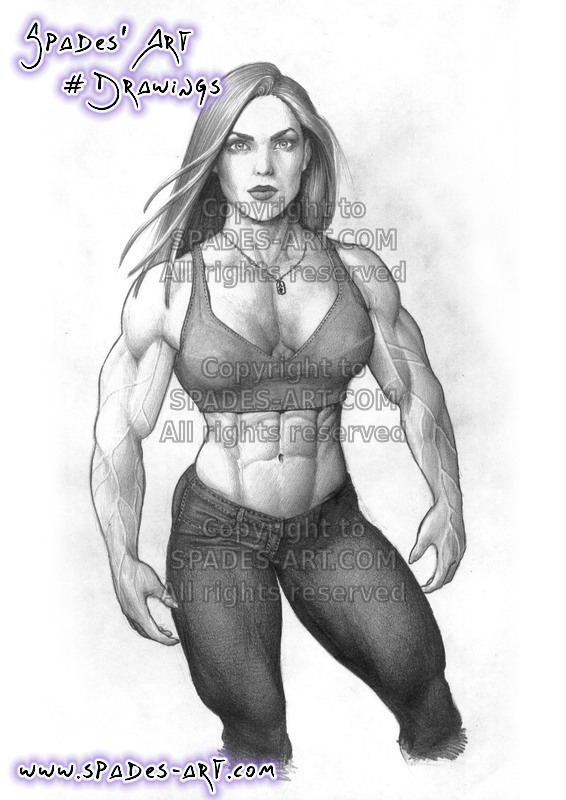 – Ampliar imagem / Enlarge image –