Histórico
Estava esperando pra ser atendido pra entregar o desenho anterior como ilustração para um jornal, e como o cara não me atendia nunca, e tinha um monte de revistas de musculação por ali, comecei a folhear.
Parei numa foto da famosa atleta e modelo Monica Brant, onde ela segurava um cachorrinho.
Eu não gosto muito dessa modelo, mas eu fiquei apaixonado pelas suas mãos e pela maneira como ela segurava o cachorro, que me deu vontade de desenhá-la, mas só tinha caneta por ali.
Eu não gosto muito de caneta pra desenhar, mas tem um ponto muito interessante de se desenhar com caneta.
Requer uma concentração e conhecimento maior, pois desenhar a caneta, não se permite ERROS. Portanto faz-se um esforço de ser impecável.
Técnicas como caneta, tatuagem, e até mesmo fora do mundo do desenho, como música, atuação, pilotagem, qualquer situação onde a pessoa não tem como esboçar, ensaiar, apagar, voltar atrás, é onde podemos avaliar melhor a competência da pessoa, e de fato tirar o chapéu para ela quando ela o faz bem feito.
Técnica
Caneta azul esferográfica sobre papel (sulfite comum tamanho A4)
Data

?/Ago/2003
History
I was in the waiting room to deliver the previous drawing as ilustration to the newspaper, and as the boss was taking so long, and there was a lot of bodybuilding magazines there, I started to turn some pages.
I stopped at a picture of the famous athlete and model Monica Brant, which she held a little dog.
I don't like this model that much, but I was in love about her hands and the way she held that dog, so I felt like drawing, but there was only pen around there.
I don't like to draw with pen, but there's a very interesting point to draw with pen.
It needs a superior concentration and knowledge, cause to draw with pen, MISTAKES, are not allowed. So the effort of being flawless is bigger.
Techniques like pen, tatoo, and even out from the drawing world, as music, acting, driving, any situation where the person has no way to draft, rehearse, test, erase, turn back, is where/when we can better evaluate this person competence, and in fact, "take the hat off" for this person.
Technique
Blue ballpoint pen over paper (standard A4 format)
Date

?/Aug/2003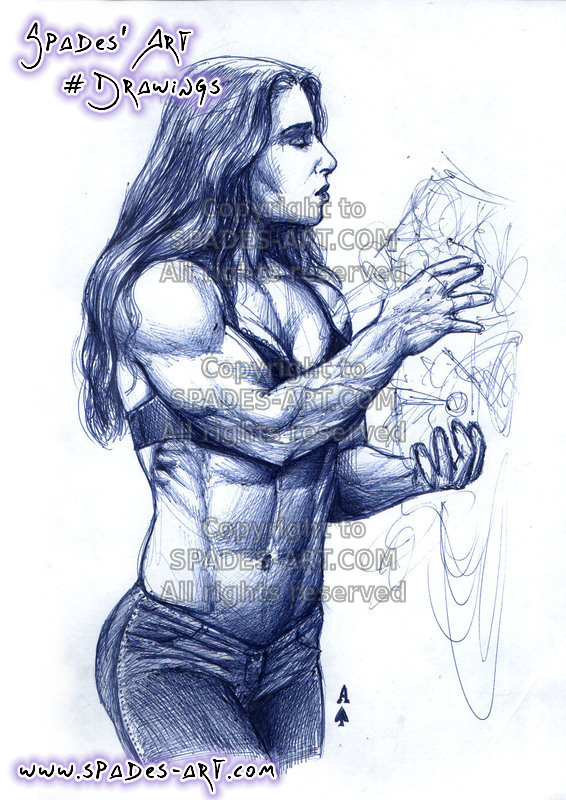 – Ampliar imagem / Enlarge image –