Histórico
Outro quadro de uma série de quadros que eu estava preparando para exposição.
Quis fazer uma fada, ignorando as cores que estava usando. A cada vez que a tinta do reservatório do aerógrafo acabava, eu reabastecia com uma cor diferente, sem limpar o reservatório.
Eis o resultado.
Detalhes
Largura: 66,5 cm (26,2 pol.)
Altura: 96 cm (37,7 pol.)
Técnica: Aerógrafo com nankin (colorido) sobre papel espesso
Preço: U$ 100,00
Data

?/Dez/2003
History
Another frame from a serie of frames I was preparing for exposition.
I wanted to make a fairy, ignoring the colors I was using. Everytime the paint of the airbrush's reservoir was over, I refueled with a different color, without cleaning the reservoir.
That's the result.
Details
Width: 26,2 In (66,5 cm)
Height: 37,7 In (96 cm)
Technique: Airbrush (aerographer) with nankin (colored) paint over thick paper
Price: U$ 100,00
Date

?/Dec/2003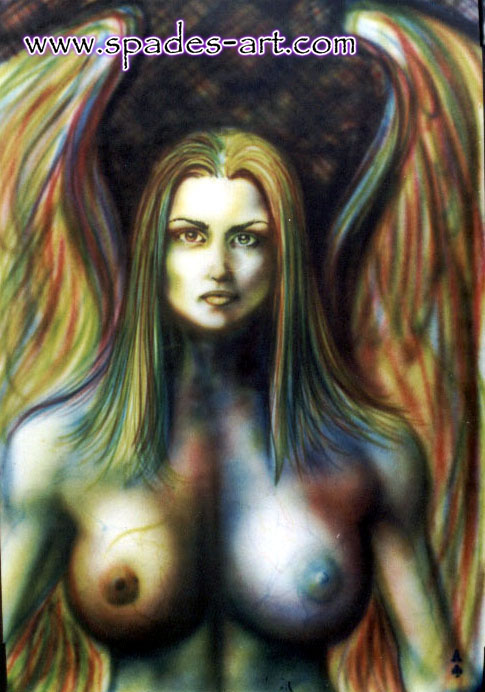 – Ampliar imagem / Enlarge image –