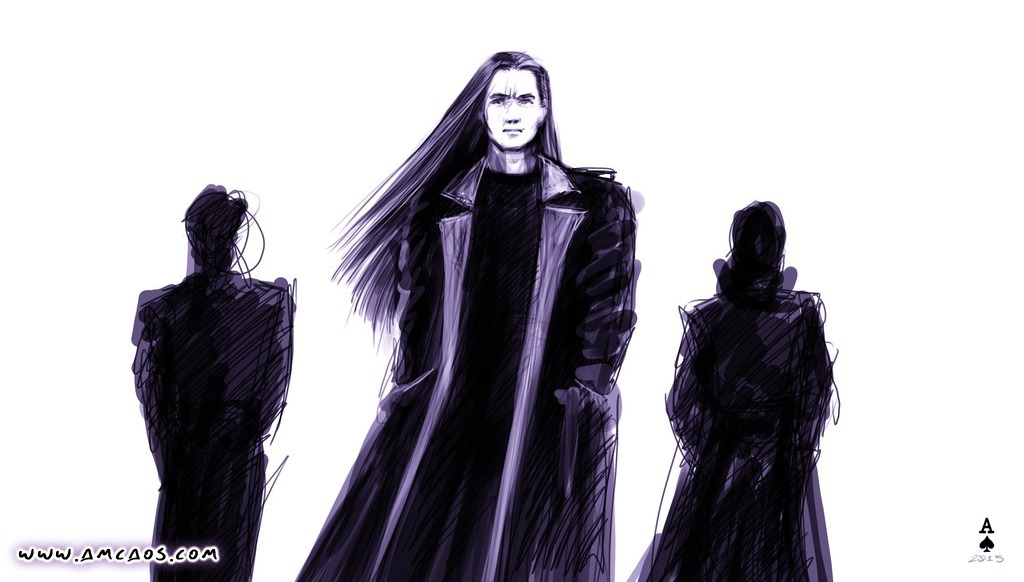 Com a ajuda de dois oficiais eu estava procurando pelo paradeiro dela. Eles deram-me uma lata de rolo de filme dizendo-me que esse continha filmagens que talvéz pudessem ajudar. Nós o assistimos várias vezes, prestando atenção em todos os rostos que apareciam no enquadramento, eu senti arrepios quando eu vi o momento em que ela abriu uma porta, saiu do local e eu ouvi a vóz do oficial dizendo "E é isso. Ela partiu e nunca retornou.". Nós fomos para uma cidade pequena na qual ela fôra vista pela última vez, nós interrogamos pessoas lá, procuramos lugares, e meu desejo de encontrar respostas estava aumentando a minha angústia e de repente eu fui surpreendido por um suave toque na parte anterior de meu cotovelo.
Eu olhei para o meu braço e aquilo era ela, entrelaçando sua mão e pulso em torno da junta de meu braço e juntando seu corpo ao meu enquanto ela andava comigo. Então tudo tinha sumido: Os oficiais, as pessoas, as ruas e esquinas e seus barulhos. Nós agora estávamos andando em um quieto e calmo corredor, embora ele fosse feio. Imundo e cheio de manchas nas paredes como se esse tivesse sido abandonado por muito tempo. Ela diz que tinha estado lá e trazia-me algumas notícias. Ela havia visto meu nível de evolução e progressão, e ela estava muito orgulhosa de mim. Ela contou-me em uma estranha equação, a quantos degraus-passos eu estava de meu objetivo. Ela então disse algo confuso que eu tive que pedir para ela repetir umas duas vezes porque estava realmente difícil de entender. Tudo o quê ela estava dizendo, eu estava ouvindo suas palavras e vendo imagens vindo à minha mente, e esse momento confuso era porque as palavras e as imagens estavam dando-me duas informações diferentes. Mas as imagens eram mais coerentes e a mensagem era que por tal objetivo eu nunca havia ousado desistir de buscá-lo.
Nesse momento nós chegamos ao final do corredor e ali havia uma seqüência de escadas descentes, e conforme nós descíamos ela disse que ela tinha que ir mas ela estará esperando por mim, e no momento seguinte eu parei de senti-la em meu braço e lateral de meu corpo, e quando eu olhei, ela havia desaparecido. Eu sentei-me nos degraus, coloquei minhas mãos na minha boca e olhando ao alto a frente eu pude ver projetado no ar a imagem de uma casa branca e velha ao final de uma rua em uma intersecção de três vias. Era-me familiar das fotos de nossa busca. Eu comecei a chorar fortemente pois eu tinha percebido o quê havia acontecido.
Não havia necessidade em procurar mais adiante porque eu já tinha obtido minha resposta afinal, o quê acharíamos a partir dali não faria diferença alguma para mim.
Sem abraço, sem beijo, mas eu sou grato por ela ter voltado para um momento de despedida juntos. Eu apenas não consido suportar a dor de ter que viver o resto de minha vida sem ela. Mas a quem culpar? Vida é feita de escolha e ela fez as delas. Sua escolha, seu caminho. Quem sou eu para interferir? Eu preciso aceitar esse fato. Eu não tenho que gostar disso, mas eu preciso aceitá-lo. Eu continuarei sendo o melhor que eu posso ser de forma que possamos nos juntar novamente um dia.
Eu só espero que não seja tão demorado.
.
Ás
Vê isso na página de Facebook do AMCAOS:
https://www.facebook.com/notes/amcaos/1638244013074426
With a help of two officers I was searching for her whereabouts. They gave me a can of a roll of film and telling me that it has footages that might help. We watched it several times, paying attention to all of the faces which appeared in the framing, and I felt chills on my body when I saw the moment when she opens a door and leaves the place and I heard the officer's voice saying "and this was it. She left and never returned". We went to the small town in which she was seen for the last time, we interrogated people there, searched places, and my desire to find the answers was increasing my anguish and suddenly I got surprised by a gentle touch at the anterior part of my elbow.
I looked to my arm and it was her, wrapping her hand and wrist around the joint of my arm and gathering her body next to mine while walking with me. Then all have been gone: The officers, the people, the streets and corners and their noises. We were now walking in a quiet and calm corridor, but it was ugly though. Filthy and stained walls like it had been abandoned for a long time. She says then she has been there and brought me some news. She has seen my evolution level and progression, and she was so proud of me. She told me in a strange equation how many stairs-steps I was from my goal. And then she said something confuse that I had to ask her to repeat me a couple of times because it was really hard to understand. All she way saying, I was hearing her words and seeing images coming into my mind, and this confusing moment was because the words and the images were giving me two different informations. But the images were more coherent but still not making a a clear sense. The message was that such goal I have never dare giving up from questing for it.
At this point we arrived at the end of the corridor and there was a sequence of descending stairs, and as we were going down she said that she had to go but she will be there waiting for me, and in the next moment I stopped feeling her on my arm and side of my body, and when I looked she has disappeared. I sat on the stairs, put my hands on my mouth and looking up forward I could see projected image in the air of an old white house at the end of a street in a three-way street intersection. It was familiar from the pictures of our research. I started to cry sorely because I had realized what had happened.
There was no need in researching any further because I got my answer at last, what we would find beyond that point makes no difference to me.
No hug, no kiss, but I am thankful for her coming back for a farewell moment together. I just cannot stand the pain of having to live the rest of my life without her. But who's to blame? Life is made of choices and she has made hers. Her choice, her path. Who am I to interfere? I must accept this fact. I don't have to like it, but I must accept it. I will carry on being the best I can be thus we can gather again someday.
I just hope it not to be long.
.
Ace
See this at AMCAOS Facebook page:
https://www.facebook.com/notes/amcaos/1638110183087809