Histórico
Essa aí eu achei nos orkuts e fotologs da vida. Muito provavelmente vocês já devem saber quem ela é.
O que me chamou a atenção nela, além da beleza, é sua atitude (coisa cada vez mais raras nas mulheres) pois ela além de malhar pesado, ainda tem altos projetos como comunidades, sites, revistas com o objetivo de abrir a cabeça da mulherada para os benefícios da musculação para mulheres.
Meus valores em relação a mulher musculosa mudaram muito desde que minha ex me deixou, mas como eu me identifico muito com a idéia dela, eu acabei sentindo vontade de desenhá-la, e de divulgar seu trabalho.
Técnica
Grafite HB 0.5 sobre papel (sulfite comum tamanho A4)
Data

17/Jan/2006
History
This is one I found in orkut and photologs. Probably you've known her.
What got my attention beyond her beauty, was her atittude (a rare thing in women) cause besides the fact she bodybuild for good, she's got a lot of projects as communities, sites, magazines with the purpose of open the women's mind for the benefits of bodybuilding for women.
My values about muscle women changed a lot since my ex left me, but as I identify myself a lot with her goals I felt like drawing her and publishing her work.
Technique
Graffiti HB 0.5 over paper (standard A4 format)
Date

17/Jan/2006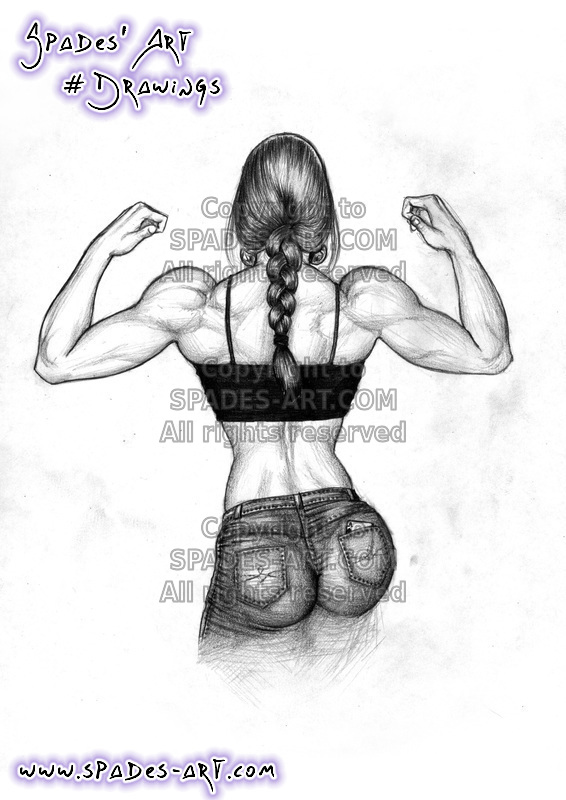 – Ampliar imagem / Enlarge image –