Eu sou o único cara hetero que se sente idiota por chorar ao ouvir essa música?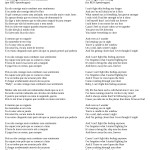 Agora.. eu tenho algo a dizer:
Essa música é da minha infância, eu fiquei muito tempo sem ouvi-la. Nesse meio-longo-tempo, acho que uma década, eu aprendi inglês. Então agora eu a entendo. E mesmo que eu soubesse inglês quando eu era criança, eu não a entenderia de qualquer forma pois eu não sabia sobre vida, eu não sabia sobre envelhecer, eu não sabia sobre dor-de-coração.
Bem agora, eu detesto admitir, mas eu me identifico com essa música porque de fato há uma garota dentre as pessoas que eu conheço que me faz sentir-me da maneira descrita na música. Porém há uma sutil diferença entre mim e o artista que a escreveu: Eu JÁ TENHO a tal força para demonstrar. Eu nunca tive problemas ou dificuldades em me abrir e expressar meus sentimentos. E eu não sinto isso de uma forma dramática ao ponto de me rastejar pelo chão e de arrebentar através de porta alguma. (Eu acho que ela já me acha louca o bastante. Se eu arrebentar a porta dela, ela certamente colocaria uma ordem judicial para me manter longe dela. hahaha)
.
Ás
Am I the only straight guy who feel stupid for crying when listen to this music?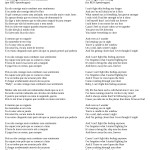 Now… I have something to say:
This song is from my childhood, I've been a long without listening to it. In this mean-long-while, a decade I guess, I've learned english. So now I understand it. And even if I knew english when I was a child, I wouldn't get it anyway because I didn't know about life, I didn't know about aging, I didn't know about heartache.
Right now, I hate to admit it, but I identify myself with this song because in fact there is some girl amongst the people I know who does make me feel the way is described in this song. However there is a slight different between me and the artist who wrote it: I HAVE ALREADY such strength to let it show. I've never had problems or difficulties in opening up and speaking my feelings out. And I don't feel it in a dramatic way to the point of crawling upon the floor and crashing through any door. (I guess she already sees me crazy enough. If I made it worse by crashing through her door, she would put a PPO on me for sure. hahaha)
.
Ace