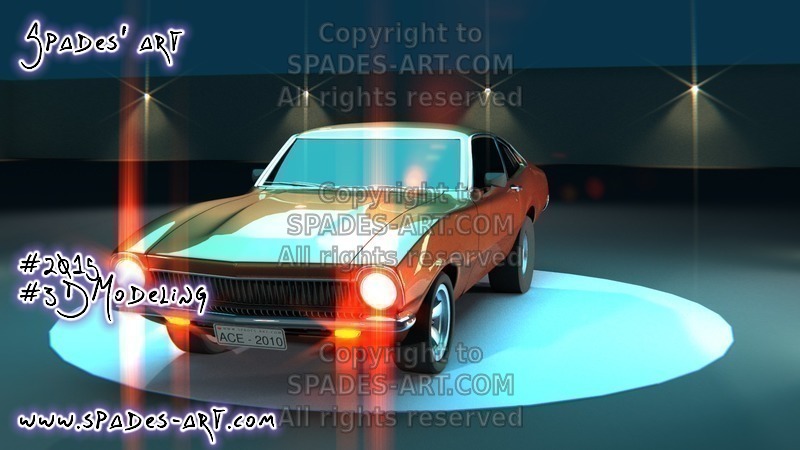 Estudando o Blender Cycles: Parte 3
Eu agora estou tentando aprimorar materiais que simulem pinturas automotivas do tipo metálicas.
Para quem não sabe, a pintura automotiva do tipo metálica não se limita apenas em uma tinta cheia de pós metálico. Se assim fosse, teria um resultado muito fosco. Como se fosse um espelho embaçado pelo vapor. Sendo que na verdade há um segundo efeito por cima desse que nós permite ver brilhos definidos de luzes e uma leve reflexão do ambiente à volta.
Isso acontece por conta do verniz. Na vida real é simples: Pinta-se com tinta metálica, espera-se secar, e depois pinta-se com verniz por cima. Mas no mundo virtual, onde tudo que vemos provém de números, é preciso quebrar a cabeça para combinar efeitos para que o resultado seja igual ao que vemos na vida real. E eu digo "quebrar a cabeça", pois nem sempre os programas de modelagem 3D vêm com esses efeitos prontos de fábrica.
.
Ás
Studying Blender Cycles: Part 3
I am now trying to improve the materials which simulate automotive paintings of the metallic type.
For those who don't know, the automotive painting of the metallic type doesn't limit itself only to a paint full of "metallic dust". If it were so, it would have a very diffuse result. Like if it were mirror blurry from vapor. When actually there is a second effect over this one which allow us to see well-defined shines from lights and a slight reflection of the environment around it.
This happens due to the varnish. In real life it is simple: Paint it with a coat of metallic paint, wait until it dries out and then paint it with a coat of varnish. But in the virtual world, where all we see comes from numbers, it takes to "crack the head" to combine these effects so the result can be equal of what we see in real life. And I say "crak the head", because not always these 3D modeling softwares come from factory with this effects ready-to-use.
.
Ace