Histórico
Um dia vi uma garota no shopping, poucos degraus acima na escada rolante.
O que me chamou a atenção foi o fato do quadril dela quase raspar nos vidros laterais da escada rolante,
e o que me chamou mais a atenção foi o fato dela ter um corpo consideravelmente magro em proporcao com seu quadril.
Eu a abordei, e perguntei se ela posaria para fotos, mas ela infelizmente recusou, mas ficou com meu cartão.
Cheguei em casa e desenhei este.
Técnica
Grafite HB 0.5 sobre papel (sulfite comum tamanho A4)
Data

11/Jan/2005
History
One day I saw a girl in a shopping mall, a few stairs up on the scalator.
What got my attention was the fact her hips were almost touching the side glasses of the scalator, and what got even more my attention was the fact she had a considerable thin body in proportion with her hips.
I Approached, and asked her if she could let me take pictures of her, and she unfortunatelly refused, but she kept my card.
When I got home, I drew this.
Technique
Graffiti HB 0.5 over paper (standard A4 format)
Date

11/Jan/2005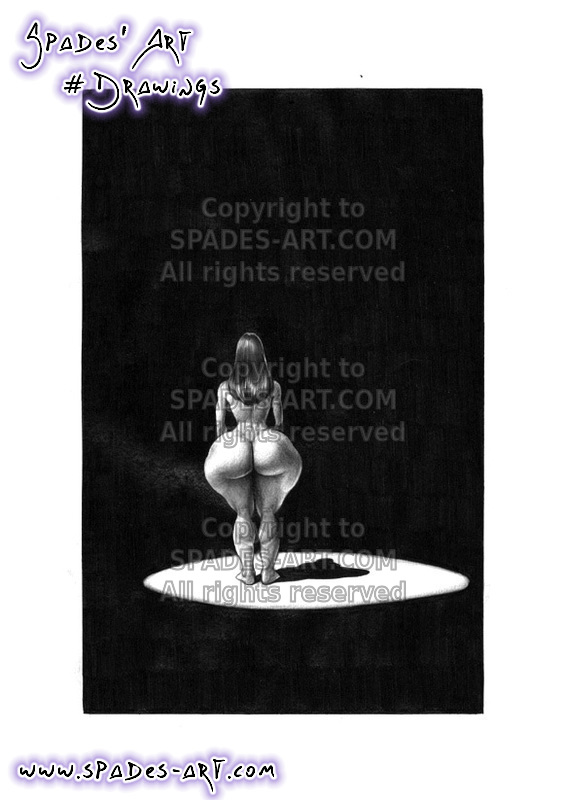 – Ampliar imagem / Enlarge image –