Histórico
Conheci uma atleta uma vez, num dia em que ela estava muito desanimada, pois estava deixando as competições. (também fiquei, afinal é MENOS uma musculosa no mundo)
Meses depois, ela me voltou a cabeça, e a imagem que eu tinha dela era de desânimo, pois só tinha conversado com ela uma vez.
E eu não acho legal pensar numa pessoa, e o pensamento ser de desânimo.
Então resolvi fazer uma pequena homenagem pra ela, e fiz este com uma pequena frase de incentivo.
Fui atras dela, mas ela tinha se mudado.
Consegui entregar este desenho pra ela quase um ano depois, quando ela veio visitar a família.
E agora felizmente quando eu lembro dela, ela está sorrindo em meus pensamentos, como da última vez em que eu a vi.
Técnica
Grafite HB 0.5 sobre papel (sulfite comum tamanho A4)
Data

?/Jan/2004
History
I met an athlete once, in a day she was too discouraged, cause she was leaving the stages. (I got discouraged too, cause it was ONE LESS muscle woman on the world)
Mouths later, she came to my mind, and the image I had of her, was of "discouraging", cause I'd just talked to her once.
And I don't think it's nice to think about a person, and this thought is of "discouraging".
So I decide to make her a little homage, so I draw this with a little incentive phrase.
I tried to find her again, but she moved. (country)
I just gave her this drawing almost a year later, when she came back to visit the family.
And now, happily, when I remember her, she is smiling in my thoughts just like she was the last time I saw her.
Technique
Graffiti HB 0.5 over paper (standard A4 format)
Date

?/Jan/2004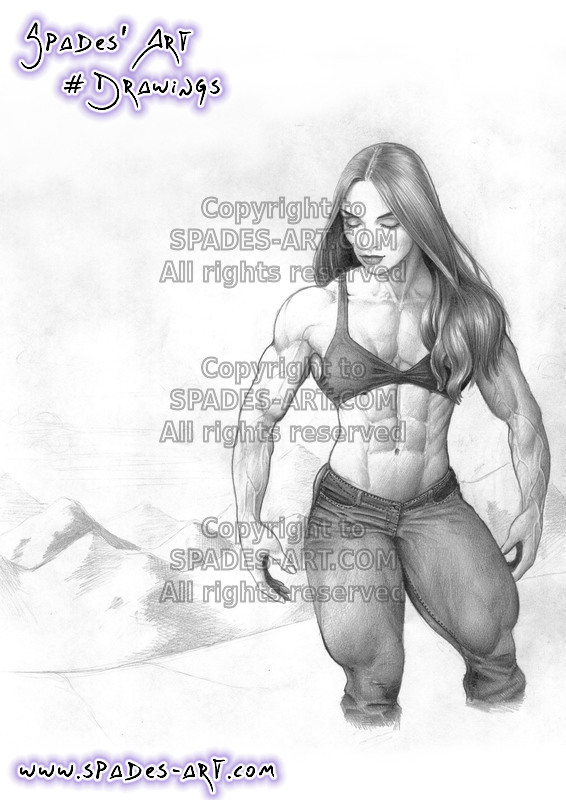 – Ampliar imagem / Enlarge image –