Histórico
Este aí foi a minha última tentativa de vender quadros nesta província em que moro.
O jeca pediu pra eu ir até o escriório dele, para criar algum quadro que combinasse com ele (o escriório).
A macaquinha da secretária dele disse o que queria que eu pintasse. Eu anotei tudo, voltei pra casa e fiz.
Tempos depois eu levo o quadro, mas o jeca não estava lá, então eu teria que voltar depois pra pegar o dinheiro.
Nunca mais achei o cara. Nunca retornavam ligação, "ninguém sabe, ninguém viu."
Tempos depois o encontrei num restaurante, e perguntei sobre o quadro, e ele disse que o pessoal não tinha gostado, não sabiam o que eram as coisas brancas nas montanhas, e nem porque a lua estava tão grande,…
Realmente não acreditei no que tinha ouvido, e até desanimei de cobrar ou sequer voltar lá pra pegar o quadro de volta.
Resumo: Aqui nessa terrinha, QUADRO tem que ser de CAVALO. Só assim os macaquinhos batem palminha e fazem festinha.
Nota.: Para que me vocês me conheçam melhor. Quando uso o termo "macaco" "macaquinho" não estou me referindo a pessoas afro-descendentes como as pessoas racistas fazem, e sim, estou me referindo a pessoas comuns, burras, chucras, ignorantes, ou qualquer outra característica que descreva aquela "mais uma" pessoa, OK?
Eu NÃO sou racista, eu apenas odeio pessoas sem brilho que se consideram semi-deuses.
Detalhes
Largura: 66,5 cm (26,2 pol.)
Altura: 48 cm (18,8 pol.)
Técnica: Aerógrafo com nankin (colorido) sobre papel espesso
Preço: Se alguém achá-lo, por favor, paguem o que estiverem pedindo, E PREGUEM FOGO NO QUADRO!
Data

?/Dez/2003
History
This one was my last trying of selling canvas in this province I live.
The Hillbilly asked me to go to his office, to create something which combine with it (the office).
The little she-monkey, (his secretary) told me what she wanted, I noted down and returned to my house and I made it.
Times ahead I took the canvas there, but the hillbilly wasn't there, so I got to return another day for receive the money.
I never found the guy again. They never returned my calls, "nobody knows, nobody saw".
Months later I accidentally met him in a restaurant, and I asked him about the canvas, and he said they didn't like it, they didn't know what was those white things in the middle of the mountains, and why the moon is so big,…
I really couldn't believe my ears, and I got discouraged to require the money or even come back there to take the canvas back.
Summarize: Here on this little land, CANVAS, HAS to be of a HORSE. Only thus the little-monkeys little-clap their little-hands and make their little-parties.
Note.: I don't know about the rest of the world, but here in brazil, racists people call afro-descendent people by "monkey". Just in case, I feel like explaining the following point, For a better understanding of myself.
When I use the term "little-monkey" "monkey" I am NOT meaning afro-descendent people as racists do. When I use these terms I am meaning people: simple, stupid, ignorant, stubborn or any adjective used to describe that "another one" person, OK?
I am NOT racist, I just hate shineless people who consider themselves as semi-gods
Details
Width: 66,5 In (26,2 cm)
Height: 18,8 In (48 cm)
Technique: Airbrush (aerographer) with nankin (colored) paint over thick paper
Price: If someone find it, please, pay whay they would be asking, AND SET THE CANVAS ON FIRE!
Date

?/Dec/2003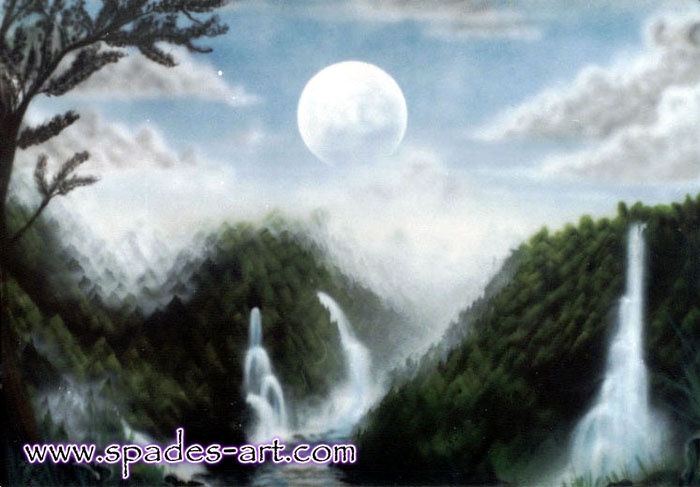 – Ampliar imagem / Enlarge image –