Histórico
Estava criando personagens para uma história que eu estava em mente. Uma história com uma proposta feminista, e por isso as personagens deveriam ser fortes e independentes.
Esta aí é uma garota que tinha um problema comum em casa.
Pai alcólatra, que batia na mãe, bla bla bla…
Ela batia de frente com a mãe, pois ela acreditava que não era obrigada a aceitar realidade só porque nasceu mulher, e por isso ela treinava musculação e artes marciais, se tornando mais perigosa que muito homem, pois ela não queria crescer, se casar, e virar saco de pancada de marido.
Como ela não tinha a compreensão nem aceitação da mãe sobre sua ideologia e forma física adquirida em consequência dela, ela se cansa e foge de casa.
Anos mais tarde ela volta pra buscar os restante de suas coisas, dá uma surra no pai na frente de toda a família, provando para sua mãe e irmãs que realmente é possível o que ela idealizava, em seguida ela foge de novo.
Desta vez pra sempre.
Técnica
Grafite HB 0.5 sobre papel (sulfite comum tamanho A4)
Data

?/?/2003
History
I was creating characters for a story I had in mind. A story with a feminist proposal, so the characters should be strong and independent.
This one is a girl who had an usual domestic condition.
Alcoholic father, who beat her mother, bla bla bla…
She collided against her mother, cause she believed she was not obligated to acept this reality just because she born as a woman, and because of that she used to train bodybuilding and martial arts becoming more dangerous than most of men, cause she didn't want to grow, marry, and become a husband's blow-bag.
As she didn't have the comprehension and acceptance from her mother about her ideology and body shape acquired by it, she got sick of that all, and ran away from home.
Years later, she returned to get her remaining stuff, she beated her father in the front of the whole family proving to her mother ans sisters what she believed was possible, and then she ran away again.
This time forever.
Technique
Graffiti HB 0.5 over paper (standard A4 format)
Date

?/?/2003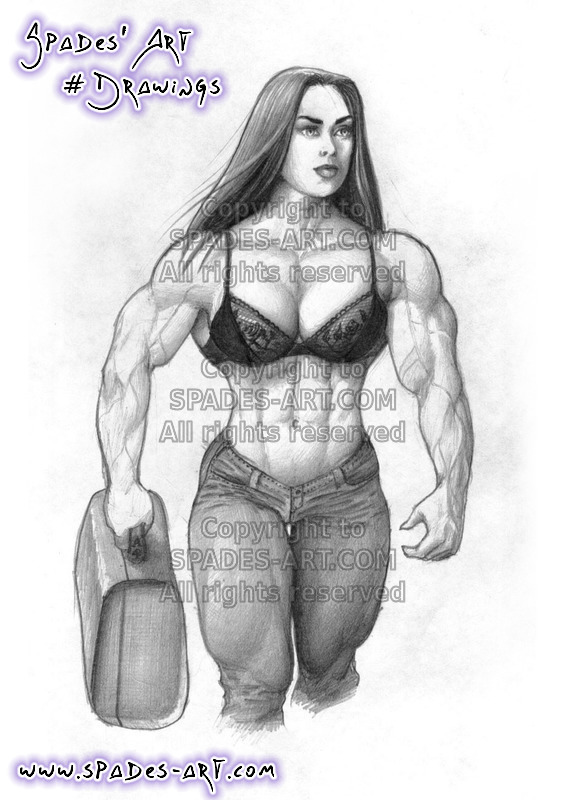 – Ampliar imagem / Enlarge image –