Histórico
Uma vez eu fui num evento de rock (metal) numa cidade vizinha, e eu reencontrei uma moça, por lá e rolou uma química inexplicével, uma oportunidade inadiável…
Enfim, transei com ela na rua, num beco ali por perto.
Tempos depois bateu uma saudade dela e daquele momento, e eu desenhei este.
Ela raspava a cabeça dessa maneira, e era incrivelmente coxuda, e estava vestida deste jeito aquela noite.
Ela só não era forte deste jeito, e suas tatuagens eram diferentes.
Técnica
Grafite HB 0.5 sobre papel (sulfite comum tamanho A4)
Data

?/Nov/2001
History
Once I went to a rock (metal) show in a neighbor town, and I reengaged a lady there, and an inexplicable chemistry, an undelayable opportunity happened…
So, I had sex with her on the street, in an alley around there.
Times after this, I started to miss so much her and that moment, and I drew this.
She shaved her head hair like this, and she has incredible thick thighs, and she was dressed like this that night.
She wasn't strong that much, and her tatoos was different.
Technique
Graffiti HB 0.5 over paper (standard A4 format)
Date

?/Nov/2001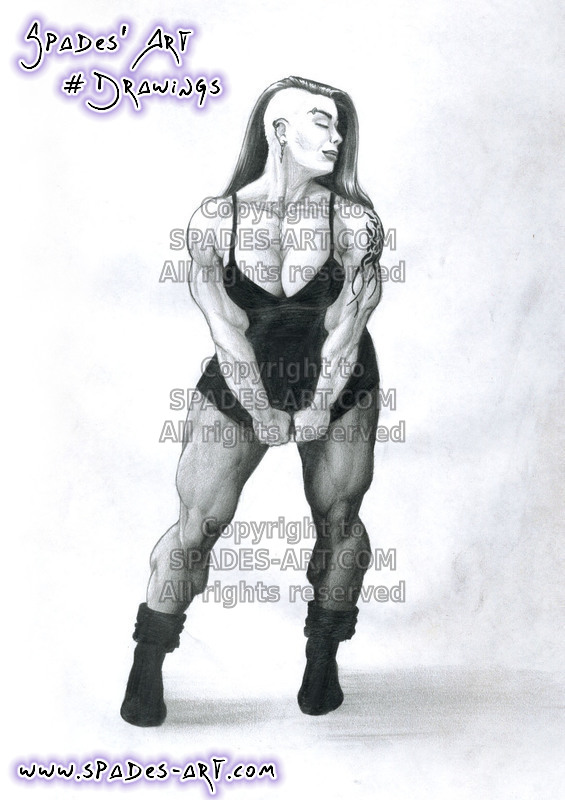 – Ampliar imagem / Enlarge image –