Histórico
Fiz este quadro para um concurso de pintura.
Eu tinha ganhado premiação no ano anterior na categoria desenho.
Neste ano eu recebi a inscrição muito em cima da hora, o que me fez pintar algo correndo, não dando um resultado muito bom.
Eu fiz este juntamente com outros 2 quadros.
Eu não gostei muito deste não, mas ele tem uma coisa curiosa. Eu o pintei durante as madrugadas, uma forma de fugir do calor e do barulho, e não sei bem se foi o que eu pensava enquanto fazia, ou o que… mas este quadro é "carregado", no sentido que pessoas n&atilde tem uma impressão muito boa ao olhar pra ele. (na verdade, boa parte de meus trabalhos eu escuto esse comentário) E enquanto eu esperava entre uma demao e outra e ia fazer um lanche, eu costumava me assustar com o quadro quando voltava da cozinha e ascendia a luz da sala. E quando não apagava a luz, dava pra ver ele da cozinha enquanto comia, e ele não me causava sensações muito boas.
Realmente ficava um clima estranho na casa no período em que o pintei.
E outra coisa é que na fase final da pintura, eu quase dilui gotas de amarelo no cinza que iria usar para fazer os olhos dela, como se fosse a unica coisa colorida do quadro. mas eu iria fazer algo bem fraquinho mesmo, quase imperceptível. Mas meu amarelo tinha acabado, e eu acabei nem fazendo.
Mesmo assim, algumas pessoas perguntaram se eu coloquei amarelo nos olhos, porque era a impressao que elas tiveram.
Curioso não?
Detalhes
Largura: 60 cm (23,6 pol.)
Altura: 80 cm (31,5 pol.)
Técnica: Tinta esmalte sobre tela.
Preço: U$ 70,00
Data

?/Abr/2001
History
I made this frame for a painting contest.
I had won on the previous year in drawing category.
This year I received the inscription too late, what made me paint quickly, not causing a good result.
I made this with another 2 frames.
I don't like that much this frame, but it has something curious. I paint it during dawns to avoid the heat and noises, and I don't know exactly if it was things I thought while I paint, or what… but this frame is "loaded", in a meaning of people don't have a good impression by looking at it. (actually I hear this comment about most of my works) And while I wait between one coating and another and I went to snack, I used to scare with the frame when I returned from the kitchen and turned the hall's lights on. And when I didn't turn the lights off, it was possible to see the frame from the kitchen while I ate, and it didn't cause me good sensations.
It really gets a strange climate in the house on that time I painted it.
And another thingi is, at the final stage of painting, I almost solved drop's of yellow into the gray I used to make her eyes, as it was the only thing in colors in the frame. But I would do something really light (weak), almost imperceptible. But my yellow was over, and I finished not doing it.
Even so, some people asked me if I put yellow on her eyes, cause that was the impression they had.
Curious, isn't it?
Details
Width: 23,6 In (60 cm)
Height: 31,5 In (80 cm)
Technique: Enamel paint over screen
Price: U$ 70,00
Date

?/Apr/2001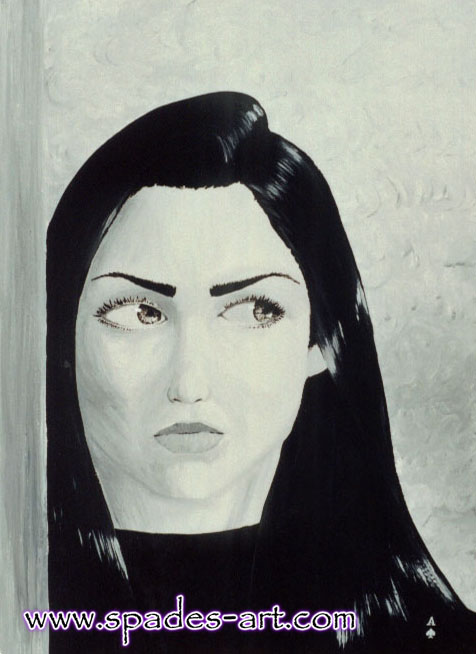 – Ampliar imagem / Enlarge image –