Histórico
Por um longo período eu escutava uma rádio local, e pelas manhãs tinha um bloco do horóscopo, e o que me chamava a atenção além do fato da locutora ter uma voz deliciosa, é que o horóscopo que ela passava, dava muito certo.
Eu um dia liguei lá e conversei com ela sobre o horóscopo, e ela acabou se interessando, e me convidando pra conhecer ela e a rádio.
No dia seguinte eu fui la, levei meus desenhos pra ela dar uma olhada, e confesso que pela voz dela, eu esperava encontrar outro tipo de mulher, mas chegando lá, ela era exatamente o que eu espero de uma mulher.
Resumindo: Eu MAL conheci a rádio, pois fiquei babando nela, ficava viajando no timbre de voz dela conforme ela me explicava as coisas, nos gestos dela, no caminhar dela… enfim… paixão na certa.
No assunto de horóscopos e signos, eu fiquei sabendo que ela fazia anivers´rio em pouco tempo, e como ela não me saia da cabeça, eu fiz esse desenho de presente pra ela.
Esse desenho tem 2 versões, a que ficou comigo e a que ficou com ela. Pois depois de pronto, eu fiz "transparéncia" em cima de meu próprio desenho, e fiz uma cópia pra mim. (xerox manual)
Eu não consegui me encontrar com ela de novo, certamente ela não foi muito com a minha cara, e percebeu que eu curti ela, e por isso começou a me evitar, e por isso o desenho não foi entregue em mãos, eu deixei na recepção da rádio, e depois ela confirmou por telefone que tinha recebido e gostado.
(Obs.: Os horóscopos que ela lia, eram de algumas revistinhas de horóscopo que ela tinha por lá, de anos antes. e muitas vezes repetidas.
Curioso naum?)
Técnica
Lápis grafite HB sobre papel (sulfite comum tamanho A4)
Data

?/Set/1999
History
For a long period, I listened a local radio, and by the mornings there was a horoscope program, and what had my attention beside the fact the (female) announcer had a delicious voice, was that the horoscope she passed, "worked".
One day I call there, and talk to her about the horoscope, and she got interested, and invited me to meet her and the radio.
Following day I went there, I brought my drawings for her take a look, and I confess that by her voice, I expect to meet another kind of woman, but when I got there, she was exactly what I expect from a woman.
Resuming: I BADLY met the radio, cause I was "hipnotized' by her, I was tripping on her voice timbre as she explained the things, in her gestures, in her way to walk… so… "passion for sure".
Talking about horoscope, I knew her birthday was close, and as she didn't come off my mind, I made this drawing for her.
This drawing has 2 version, the one I kept, the one she kept. Cause after finished, I made "transparency" over my own drawing, and I made a copy for me (manual xerox)
I couldn't meet her again, probably she didn't like me that much, and notice I liked her, and because of that, she started to avoid me, so the drawing was not delivered in hands. I left it on the radio reception, and after this she confirmed by telephone she received and appreciated.
(Obs.: The horoscopes she read, were from horoscope magazines from years before, and most of the time repeated.
Ain't it curious?)
Technique
Pencil graffiti HB over paper (standard A4 format)
Date

?/Set/1999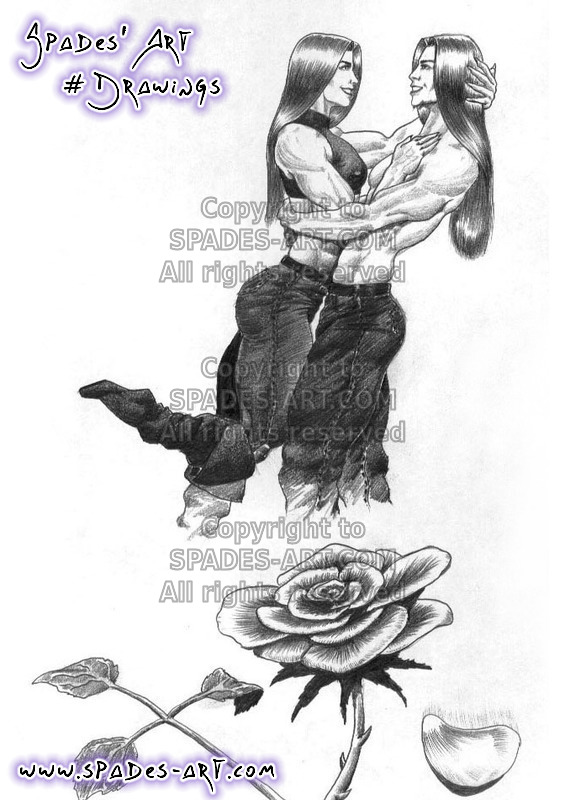 – Ampliar imagem / Enlarge image –